Let no one despise you for your youth, but set the believers an example in speech, in conduct, in love, in faith, in purity.

1 Timothy 4:12


You might be asking yourself what exactly is the 4:12? The 4:12 is the name of the senior youth program here at Our Savior Lutheran Church. It has a look and name that teens can identify with, get excited about, and promote with their friends.
Why the 4:12? The name 4:12 is based upon St. Paul's words to Timothy in 1 Timothy 4:12 , "Let no one despise you for your youth, but set the believers an example in speech, in conduct, in love, in faith, in purity."

What do you do as part of the 4:12? We meet every Sunday after service for Bible class and devotions. Every month expect to participate in retreats, special events & parties, service projects, mission trips, and more.

What grade levels are involved in the 4:12? The grade levels involved are 9th-12th. Once a child has completed the summer after their 8th grade year, they officially become part of the 4:12, come to class, and become eligible to go to devotions, retreats, trips, etc., and serve as officers on the 4:12 council. This enables our teens to have 4 years to grow together in the love of Christ, forming bonds that they can carry with them into all aspects of their lives and to mature into the future leader of our congregation here at OSL.



Where do you meet? The 4:12 meets in the youth room every Sunday for Bible study and once a month for planned events on the OSL campus. The youth room serves as our general meeting space as well as our classroom. We recently, with the help of our group, remolded and expanded the youth room. We wanted our youth to have a place which they are proud of and take ownership of, where they can come together to "pursue what makes for peace and for mutual upbuilding" (Rom. 14:19) and to "encourage one another and build one another up" (1 Thess. 5:11).
Big Questions, Biblical Answers
October 3rd, Monthly Pizza and Bible Study
On October 3rd, at 4:30 pm we will continue our study over Christian apologetics in today's world. There's no doubt about it, our youth aren't afraid to ask the tough questions about faith, the Church, and life. This Bible study will help them answer those questions. We will look at a key question in-depth and explore them through the Bible. Each month we will discuss different topics where our youth will be challenged to defend their faith. Want to know more? Join us to find out!

So, if you are in high school, make plans to join us on Sunday, October 3rd, from 4:30-6:30 pm in the 4:12 Lounge! Come enjoy food, drinks, games, and devotions!


Higher Things 2022 Conference - July 19-22
"BROTHERS, I AM MAKING KNOWN TO YOU THE GOSPEL . . . THROUGH WHICH YOU ARE SAVED."
(1 CORINTHIANS 15:1–2)
We live in a culture of blurry religious distinctions and do-it-yourself spirituality. Youth, especially, need solid ground that will nurture lasting Christian faith. Rather than treating youth as an adolescent subculture and confusing them with religious experiences that cannot be replicated at home, Higher Things believes in challenging youth to learn the pure doctrine of the Christian faith. By teaching them the same message that they hear at home, youth grow in the fullness of the Christian faith as they come to appreciate historic liturgical practice and its unique focus on God's gifts of forgiveness, life and salvation for us delivered in Word and Sacrament.


We are still in the early stages of planning and will have more information in November. We plan on attending the conference on July 19-22, at Montana State University, in Bozeman, MT.
Six letters. That's all you need. Six letters to explain the point of everything. Six letters to make crystal clear the entire Christian faith. What are those letters? FOR YOU.

"For you" makes the Gospel, well, the Gospel! The Gospel isn't that Jesus died and rose. No, that's just history (even the demons believe that). What the Lord did isn't just historical fact. He did it all for a reason, and His merits—His perfect life, death, and resurrection—are for someone.
FOR YOU!

Yes, even you. You with all your sins and evil desires. "While we were still sinners, Christ died for the ungodly" (Romans 5:8) Christ died for you. Christ rose for you. Not just you. "Christ died for our sins" (1 Corinthians 15:3). For each and for all, too. "He Himself is the propitiation for our sins, and not only for our own, but also for the whole world." (1 John 2:2).

All that Christ did is for you—has to be for you! He makes it yours. In His Spirit-filled Gifts, Christ delivers it right to you over and over and over again! Water and Word over **your** forehead. Gospel sermons and Absolution into **your** ears. God's Word into **your** ears and eyes. Jesus' Body and Blood into **your** mouth. No doubt about it:
All Christ did, all Christ does—is all FOR YOU!

Not just for each of you. Oh, no, no, no. There's no end or limit to the Lord's giving. No sin can stop His love FOR YOU. It's for all of you, and those around you, too! For all! For them—even them—through you!

Six letters. FOR YOU. Calvary. Easter. Font. Bible. Gospel sermons. Absolution. Supper. FOR YOU. Jesus' salvation FOR YOU. Jesus' mercy, forgiveness, and love FOR YOU. And that means
He's all yours and you are His.
An important part of the Our Savior congregation is its dedication to our youth. OSL is devoted to encouraging young people to become strong Christians and living out their faith in their homes, schools, and communities. To put into simpler terms, our philosophy can be summed up in three words: encourage, equip, establish.
We want to encourage the youth. Every day, young people deal with very serious issues. Whether it is sex, drugs, peer pressure, whatever, it is important for adolescents to know that the church is the place they can turn to for help. We want to encourage them to take refuge in Christ and His church. Also, it is important to encourage the youth to know that they are part of the church right now and they do not have to wait until they are adults to serve. We see in 1 Corinthians 12:12-20 that we are a body made up of many different parts. It is crucial for teenagers to realize that they can worship and serve Christ right now.
We want to equip the youth. We firmly believe that adolescents need to be equipped with the tools of a solid faith, a servant's heart, and a working knowledge of the Bible. These are the things that will serve them their entire lives. We develop a solid faith through devotionals, thought-provoking retreats, and regular worship. We develop a sense of being a servant by helping our neighbor and each other. Finally, we develop a working knowledge of the Bible by spending time in the Word. That is the only true way to know what God really says.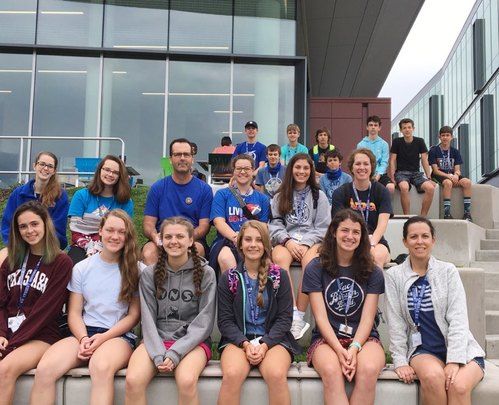 We want to establish the youth. We want to establish the youth on the firm foundation given in faith by the Holy Spirit, to know that Christ is the solid rock on which they stand, all other ground is sinking sand. Because of the many snares and temptations that will be thrown at them by the devil, the world, and their own sinful flesh, it is essential that they have a sense of spiritual integrity founded only in Jesus Christ, and grounded in His Word and Sacraments. This foundation comes from knowing the Bible, having spiritual role models, and maintaining an active worship life so as to receive God's Means of Grace for the strengthening of their faith on a regular basis.
Overall, we want to interweave the youth into the church while building a relationship with God and thus creating mature, knowledgeable Christians who, when ready, are able and eager to assume leadership roles in their church.

And perhaps most importantly, we believe it is important to support parents in raising their teenagers in Christ. The 4:12 cannot compete with school, the many extracurricular activities, and other things that take up today's teenager's time. So we strive to give both teen and parents the tools, the questions, and the answers that they need to grow in the Lord. All efforts we make, we make as a team toward the common goal: A faithful confessional Lutheran, who will continue their study of God's Word presented in Holy Scripture and explained through the Small Catechism throughout their life.
As President Christian is charged with the administration of affairs for OSL 4:12, with assistance from the Pastor and input from the OSL 4:12 members at large. Christian's reponsiblities include presideing over all meetings of OSL 4:12 and, when the need arises, appointing committees to research issues.
As the Vice President for OSL 4:12, Ben assumes the duties of the President during the President's absence. His duties include the assistance of the President to perform duties when needed and preparing an annual report with assistance from the OSL 4:12 Council Members and the Pastor, summarizing the activities of the Council.
As Secretary the job is to record and maintain the minutes of all OSL 4:12 meetings and file them with the copies of previous minutes, to be kept by the Pastor. They diligently prepare and receive correspondence for the OSL 4:12 and maintain proper files, while performing other duties as ordinarily pertaining to the office.
Bella manages OSL 4:12's social media profile, as part of her duties as the Communication Officer. She provides and manages the communication process between Council, subgroups and general members. Her duties also include managing monthly articles for the Voice newsletter.
On October 6th, 2020, the OSL 4:12 Youth Group went on a trip to Planned Parenthood to pray against the horrible acts of abortion from 10 AM to 12 PM. Thirteen students came to the vigil to pray for life. Besides just praying for life at Planned Parenthood, the Baby Blue Bus was there for people to visit and some went in for the first time. Pastor Krieg also had a couple devotions for the Youth Group to meditate upon and to use as some inspiration for prayers. After that, the Youth Group ate Chick-Fil-A for lunch on the bus ride back to school. The experience was overall a good one for everybody and it was particularly good to peacefully gather and pray against one of the most diabolical snares that Satan has set up for humanity.

- Christian White, OSL 4:12 President
Higher Things Retreat - 2019
The Higher Things conference took place July 30 - August 2, in Irvine, California. Twenty-one youth from OSL 4:12 and four chaperones flew from Houston to Concordia University - Irvine, to join with 400 Lutheran youth from all over the United States. The conference theme was "Concordia" which is Latin for "with one heart." The sessions and Bible studies focused on being unified around the confession of Jesus as our Lord and Savior and that true concord isn't just a feeling of being one but always being centered around the confession of Christ and Him crucified. We learned about defending our faith and how to stand up against the influences of the world. Before the conference began, we were able to spend a day exploring Los Angeles and Hollywood, as well as enjoying time at Huntington Beach. The experience was full of fun and learning for everyone. The youth group would like to thank the congregation for their continued support of this type of special event.

- Christian White, President, 4:12
2019 Texas Rally For Life
A small group of OSL 4:12 members were able to take advantage of the opportunity to attend the Texas Rally for Life held in Austin on Saturday, January 26th. We were able to ride the charter bus and experience a Houston Lutherans for Life meeting held on the bus along the way as well as a couple of Buccee's stops. Once in Austin, we joined with thousands of other pro-life Texans by holding up signs and walking to the Capitol steps. There we heard a number of people speak on the progress of pro-life efforts both in Texas and in the U.S. in general. The speakers encouraged us to keep working hard and even asked us to keep recruiting more young people to focus on this important issue. It was an uplifting day, and it was great to see other people who feel so strongly about being pro-life joined together in a peaceful demonstration. We pray that our generation will put an end to abortion!

- Christian White, President, 4:12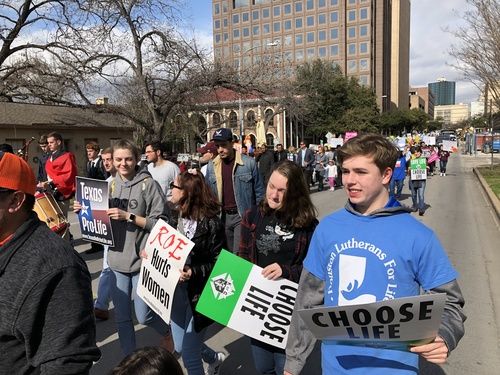 On Tuesday, October 9th, a group of 14 students from the 4:12, were able to take a special field trip to the Planned Parenthood location on the Gulf Freeway to participate in Day 14 of the 40 Days for Life event. We joined together with other members from OSL and the community to share in peaceful prayer and devotion time. We were able to lift up those who are faced with an unplanned pregnancy, those who are contemplating abortion, and for many who now live with the consequences of previously choosing an abortion. The youth prayed together and showed their stance that they are committed to God's plan for life and family, and that they want to see an end to abortion. The youth were even able to tour the inside of the Big Blue Bus that we have heard so much about at church. It was a great experience to join with Christians in our community and to stand for life.

- Christian White, President, 4:12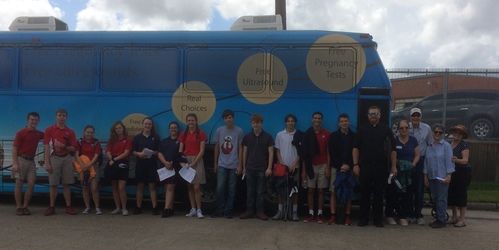 Higher Things Retreat - 2018
The OSL 4:12 Youth Group attended the Higher Things conference July 23-27 in Lawrence, Kansas. Twenty youth and four chaperones flew from Houston to the University of Kansas to join with 1000 Lutheran youth from all over the United States. The conference theme was "Sanctified" which allowed us to focus on the Ten Commandments and guided us to look at both Law and Gospel and how they are both vital to spiritual growth. The days were filled by attending several daily worship services, selecting various breakout sessions that covered common topics for teens, and hearing Pastors preach and teach about how God has called us to be His own. While there was a lot to learn, there was also plenty of fun and free time. Students were able to participate in group sports and activities, rock climbing, swimming, and even exploring a large university campus. The group also spent a day at Schlitterbahn in Kansas City just before the conference began. Everyone had a wonderful time and we want to thank the chaperones for taking time to be with our group, and a special thank you to our congregation for supporting our fundraising efforts that allowed us to attend this event.

- Christian White, President, 4:12
As a fun activity, OSL 4:12's youth group attended an Astros game between the Astros and the Jays. During the night, there was never a dull moment. There was always something going on such as buying $1 hot dogs, seeing Josh and Sean on the muscle cam, children getting loaded with sugar, and Kaitlyn killing a cockroach that was in Elena's seat. Even though we didn't have the best seats of all time we didn't complain. We were excited just to be there. We still screamed at the top of our lungs at the players and at every home run. We got to experience some interesting blue ice cream, which we weren't exactly sure the flavor of, but it was still delicious. In my opinion, the trip wasn't about just going to see a ball game, it was about spending time with my friends and my church community. If I had gone to this game just with my family or by myself I would've been bored out of my mind, but it's the people that you surround yourself with that makes the experience truly special. The 4:12's first Astro excursion is one to remember and I hope we can go do more things like this to help strengthen and grow our friendships and overall, our 4:12 community.

- Madison Lehr, Secretary, 4:12